....Not only do we make your package, we fill your
package. Many of our satisfied customers have
found it easier to ship us their product for pack-out
in our boxes -a complete turnkey packaging program.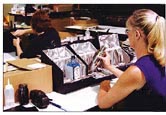 ....We'll install a bow, ribbon, label - you name it! We
meticulously and accurately maintain your inventory,
pack it out and drop ship it directly to your customer.
Simple, efficient and very cost effective.